Founded in 1929, Ogden & Company, Inc. is Wisconsin's largest independent, full service real estate firm.
Ogden's proud heritage and tradition of providing the highest quality real estate services for our commercial and residential clients has allowed us to be a trusted industry leader for more than 85 years.
Our strong client relationships have been built on honesty, integrity and proven results which mirror the cornerstones of our mission statement. We are headquartered in Milwaukee and not only serve all of Wisconsin but we have had an office in Mesa, Arizona since 2003.
At Ogden, we specialize in all things real estate: development, construction, property management, acquisition, investment, sales, leasing, maintenance and consulting. Our independence allows us to customize services to suit the unique needs of each one of our clients from individuals to large institutions.
Ogden is a third generation, family-run company providing strong leadership for an experienced, motivated and hardworking team of over 200. We are honored to be named one of Milwaukee's Top Workplaces for 6 consecutive years. It is our incredible team of professionals that perpetuates the Ogden spirit of entrepreneurship and dedication to serve our clients.
Ogden's team of experts have the education, recognitions, designations, affiliations, memberships, and access to cutting edge technology that sets industry standards and make our team, the best of the best. We are an AMO Company, and members of CARW, IREM, CAI, WRA, NAR, NAIOP, ICSC, & SIOR.
How can the Ogden team serve you?
Discover the Ogden Advantage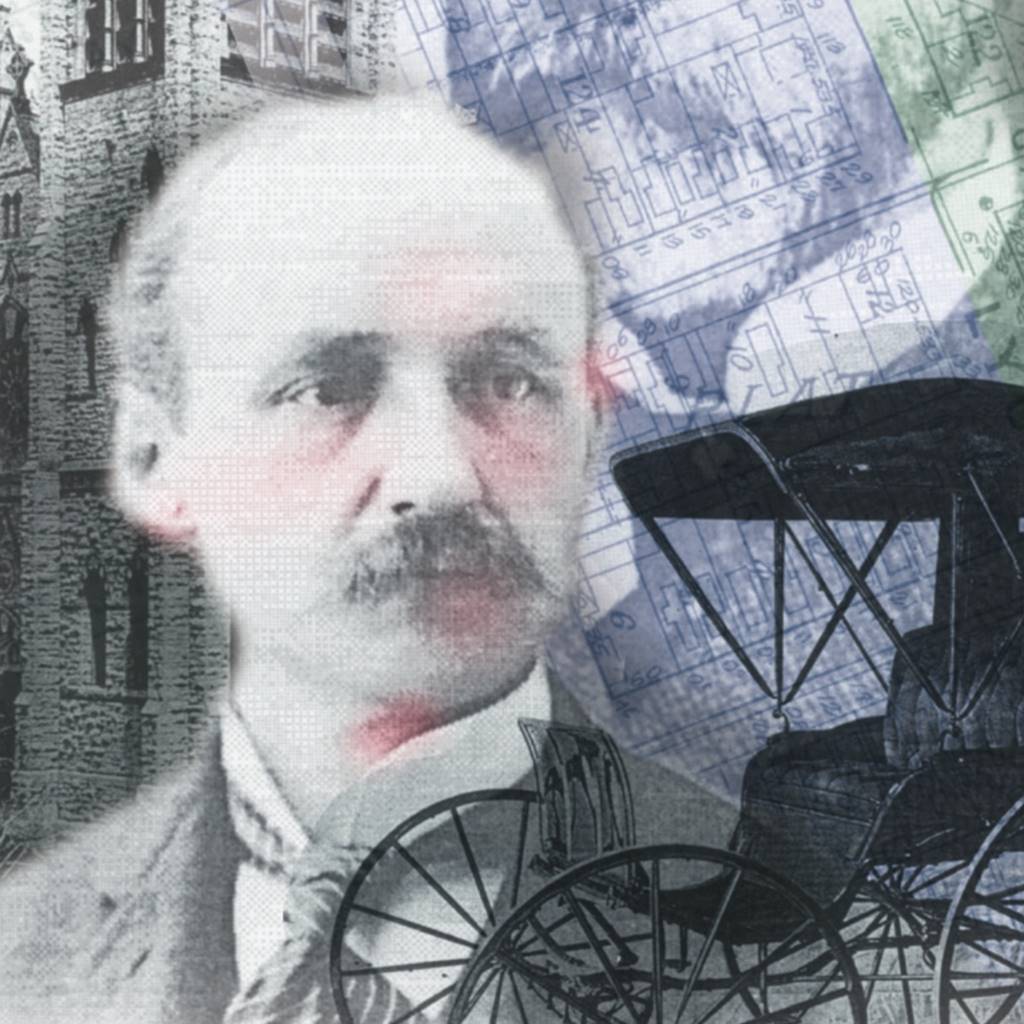 The Early Years
When John G. Ogden first moved to Milwaukee in 1835, he determined that Milwaukee had a promising future. He founded a carriage company on a parcel of land that is now occupied by the Wisconsin Hotel, and purchased land that is now Ogden Avenue. He was the co-founder of the First Presbyterian Church, now known as Immanuel Presbyterian Church. His son, Henry Ogden was actively involved in the G.W. Ogden Carriage Company. Henry and his wife had two children, Alice and Elliott.
John G. Ogden moves to Milwaukee.
G.W. Ogden Carriage House is founded.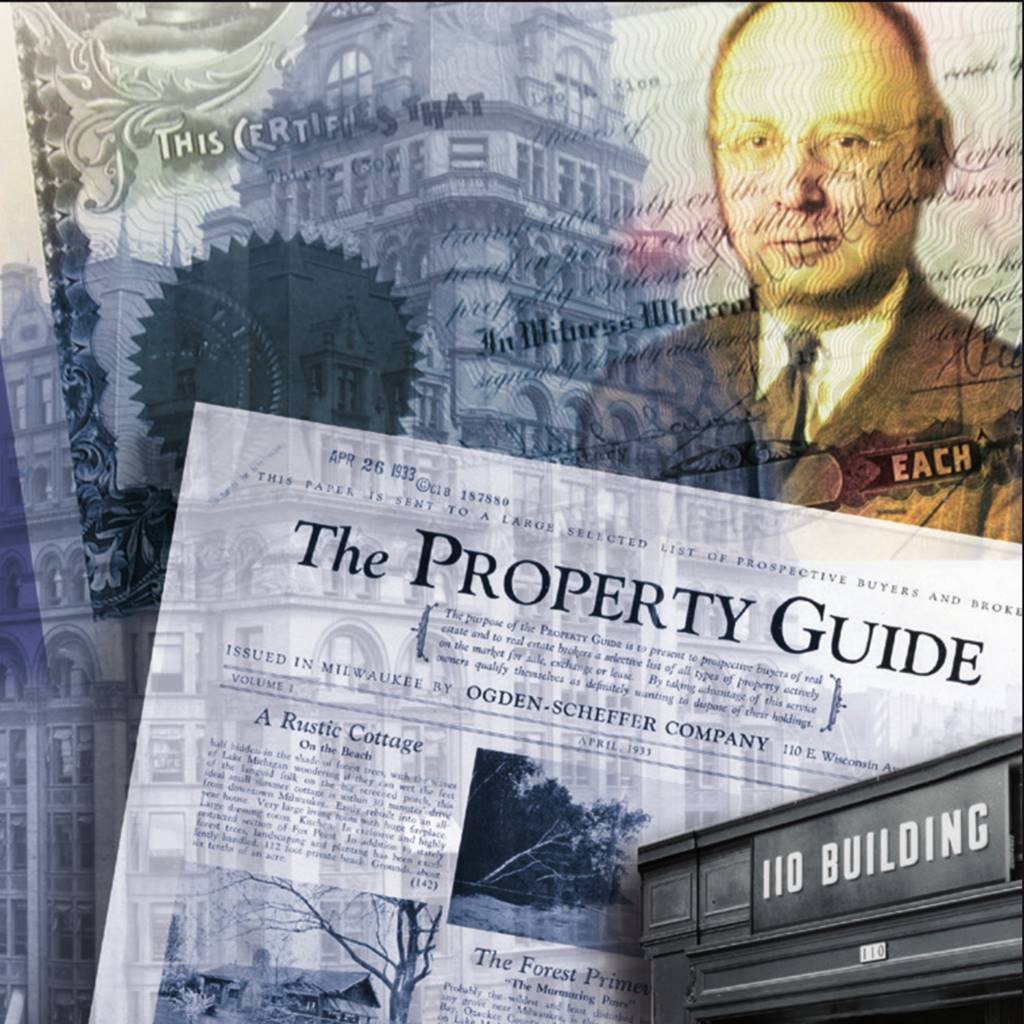 The Depression Years
On October 29, 1929, Elliott Ogden & Guido Scheffer founded the Ogden- Scheffer Company. The Company began with residential sales and leasing. The first office was located at 110 E. Wisconsin Avenue. Elliott Ogden took over the business and expanded it to include real estate management, commercial sales and leasing, and mortgage procurement and servicing. By the late 1930's, Ogden & Company, Inc. became the first full service real estate company in Milwaukee.
Founding of Ogden- Scheffer Company, the same day as the stock market crash, October 29, 1929.
Expansion of Company with new divisions.
Ogden & Scheffer split, the Company becomes known as Ogden & Company, Inc.
John Ogden Sr. graduates from Cornell University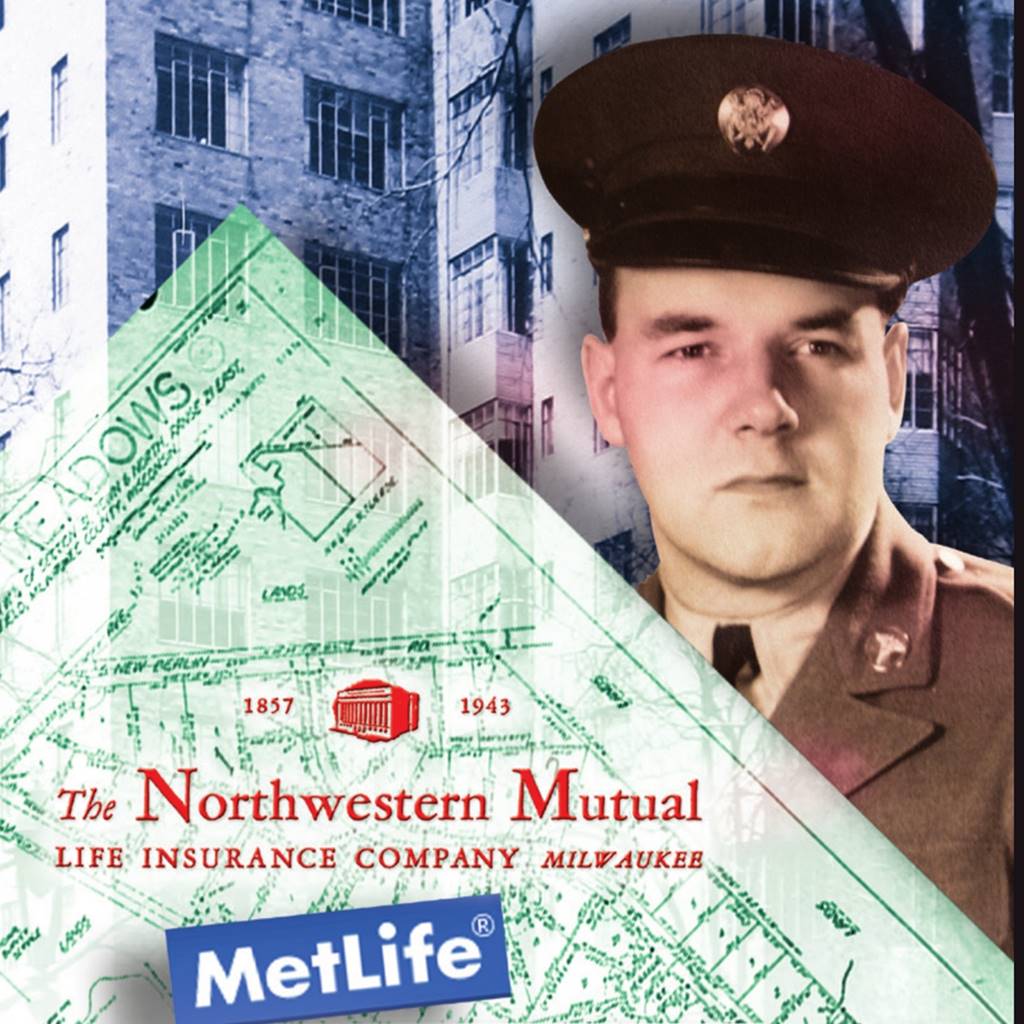 The War Years
In 1939, Elliott Ogden developed 1609 North Prospect Avenue. The building was designed by Russell Bar Williamson, a student of Frank Lloyd Wright. Ogden expanded the business to include mortgage servicing with companies such as Northwestern Mutual Life. In 1941, John Ogden Sr. enlisted in the US Army Air Force, and remained on active duty until 1946. Grange Meadows became the first subdivision Ogden developed, and was one of the first subdivisions developed in Hales Corners.
1609 N. Prospect completed and occupied
John Ogden Sr. joins the Company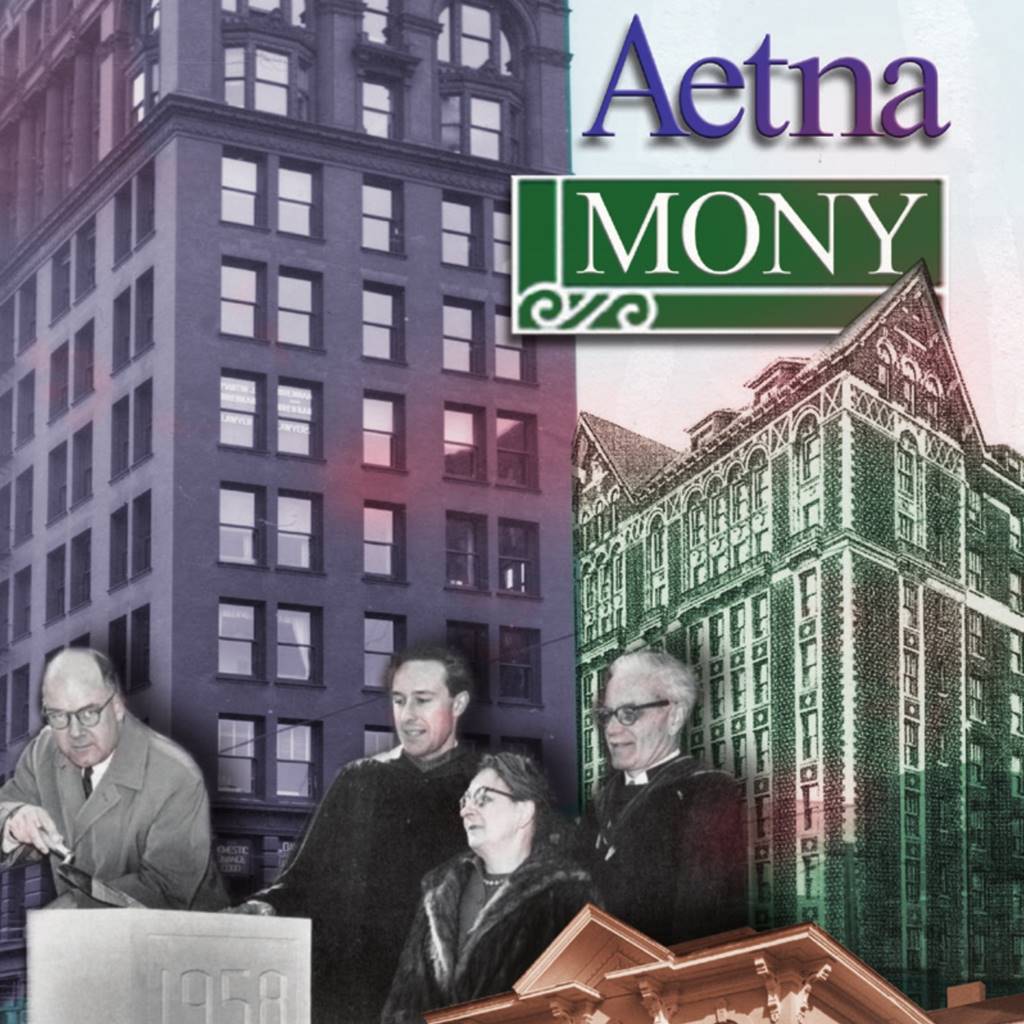 On the Move
In 1949, the Company moved to the Railway Exchange Building, located at 229 East Wisconsin Avenue. Mortgage Servicing continued to be an important aspect of the business, with clients such as MONY and Aetna. As the business grew, the Company moved again to 1234 North Prospect Avenue. During this period, Ogden owned and managed the Wisconsin Hotel. The Ogdens remained active in the church, laying the cornerstone of the Waverly House in 1958, the same year that John Ogden Sr. became President of the company.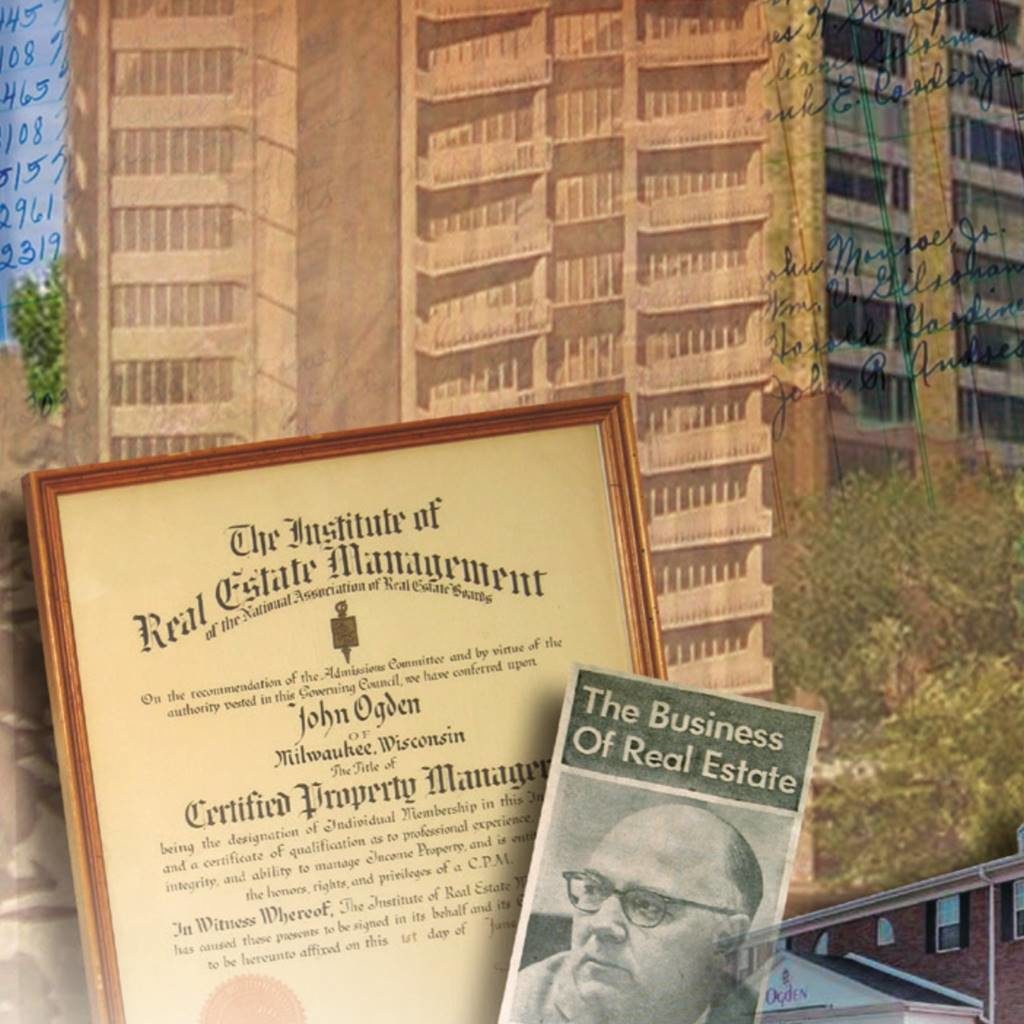 Decade of Change
In the 1960's Ogden went through a number of changes. The first residential branch office was opened in the North Shore, on the corner of Port Washington and Brown Deer Roads, where it remains today. ⌦The Company became involved in the development of various projects, including Regency House, Summit House, and Lodgewood. Company founder, Elliott Ogden passed away in 1965 due to a brain aneurysm, and in 1969, John Ogden Sr. was elected Realtor of the Year.
Ogden opens the first residential branch office in the North Shore.
Ogden developed the Regency House, which started as a rental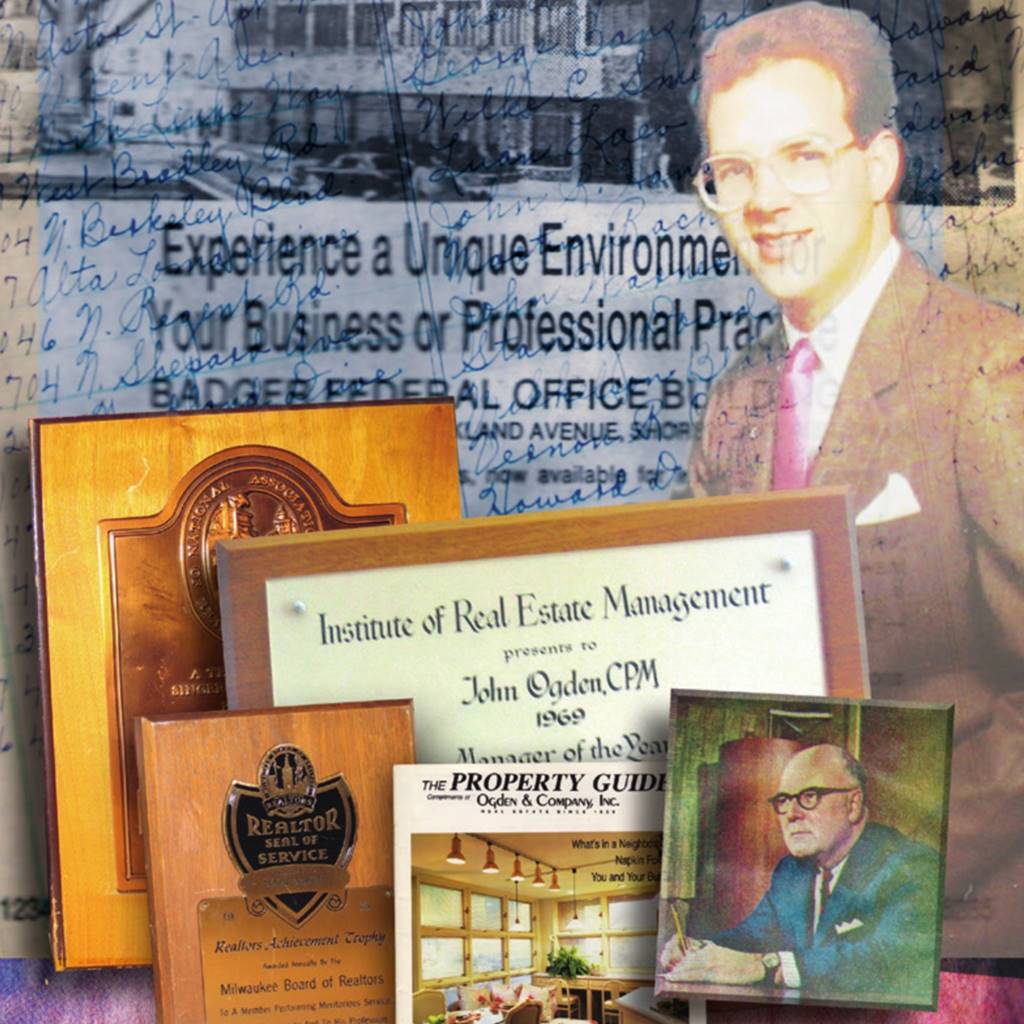 Recognition and Expansion
John Ogden, Sr. received several honors during this decade. They included the Manager of the Year in 1969, President of the twenty four hundred- member Milwaukee Board of Realtors in 1970, and Realtor and Property Manager of the Year in 1974. The Company developed the Forum building, and the Badger Savings and Loan building. A residential branch of the company was opened in Cedarburg, and in 1979, John Ogden, Jr. joined the sales staff. His joining the team made Ogden a third generation company.
Ogden Investments Created
John Ogden, Sr. Awarded Realtor & Property Manager of the Year.
Opened residential branch in Cedarburg.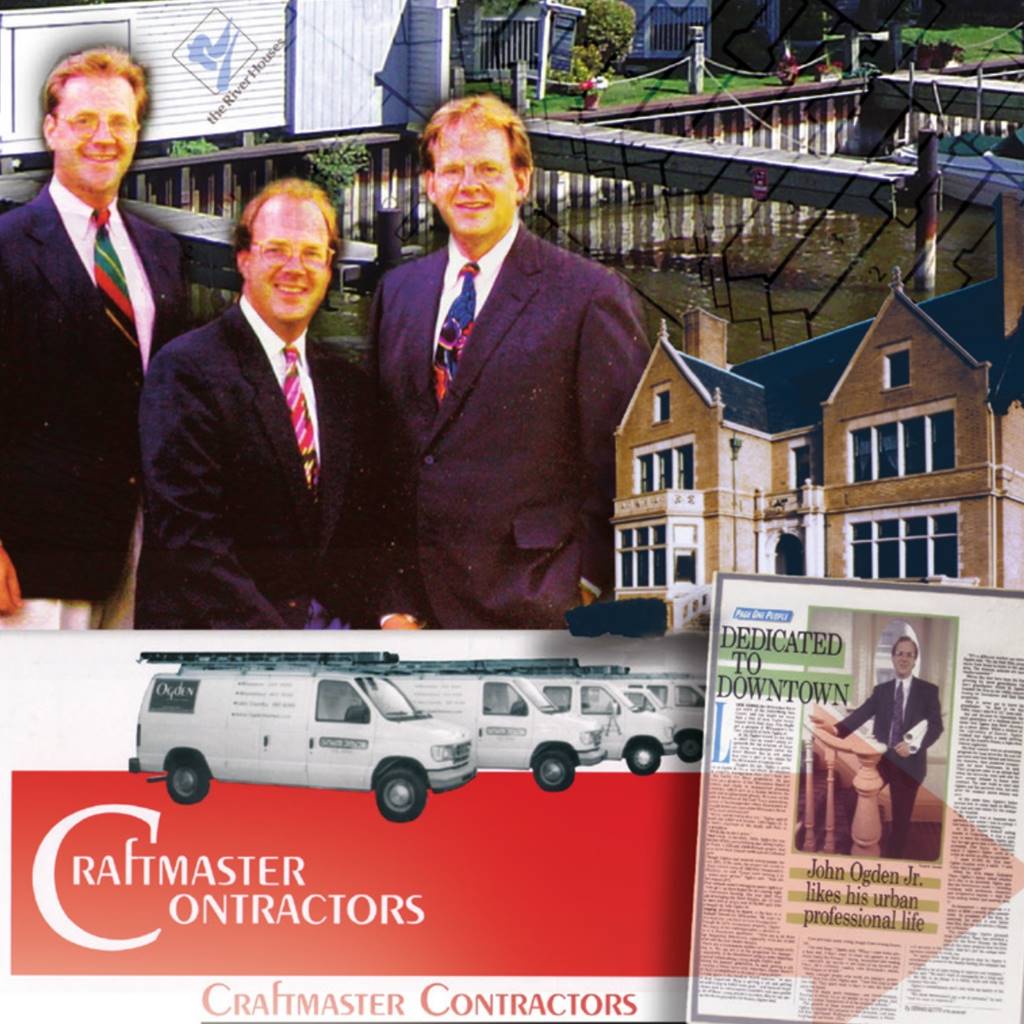 The Third Generation
River House Condominiums were developed along the Milwaukee River, which marked the first residential project on the river to include private boat slips. During the late 80's, the three Ogden brothers, John Jr., Peter, and Christopher were all working with the Company. The office moved to 1550 North Prospect Avenue, and in 1988, Ogden Acquisition Group and Ogden Development Group were created. In 1986 CraftMaster Contractors became the maintenance subsidiary of the Company and another residential sales office opened in Elm Grove.
John Ogden, Jr. joins the Company
Peter Ogden joined the Company.
River House Condominiums developed
Acquired Oak tree services, later renamed CraftMaster Contractors.
Ogden Development Group created
New Developments
In 1993, Ogden & Company, Inc. purchased Higgs Management Company and acquired the management of Bay View Terrace. Hotel Metro was developed and remains to be a premier downtown Hotel. Ogden began managing other Milwaukee area buildings, including the Iron Block Building. Ogden started developing West Village Apartments on Milwaukee's west side. In 1992, Peter Ogden was appointed President of the Company.
Developed West Village Apartments.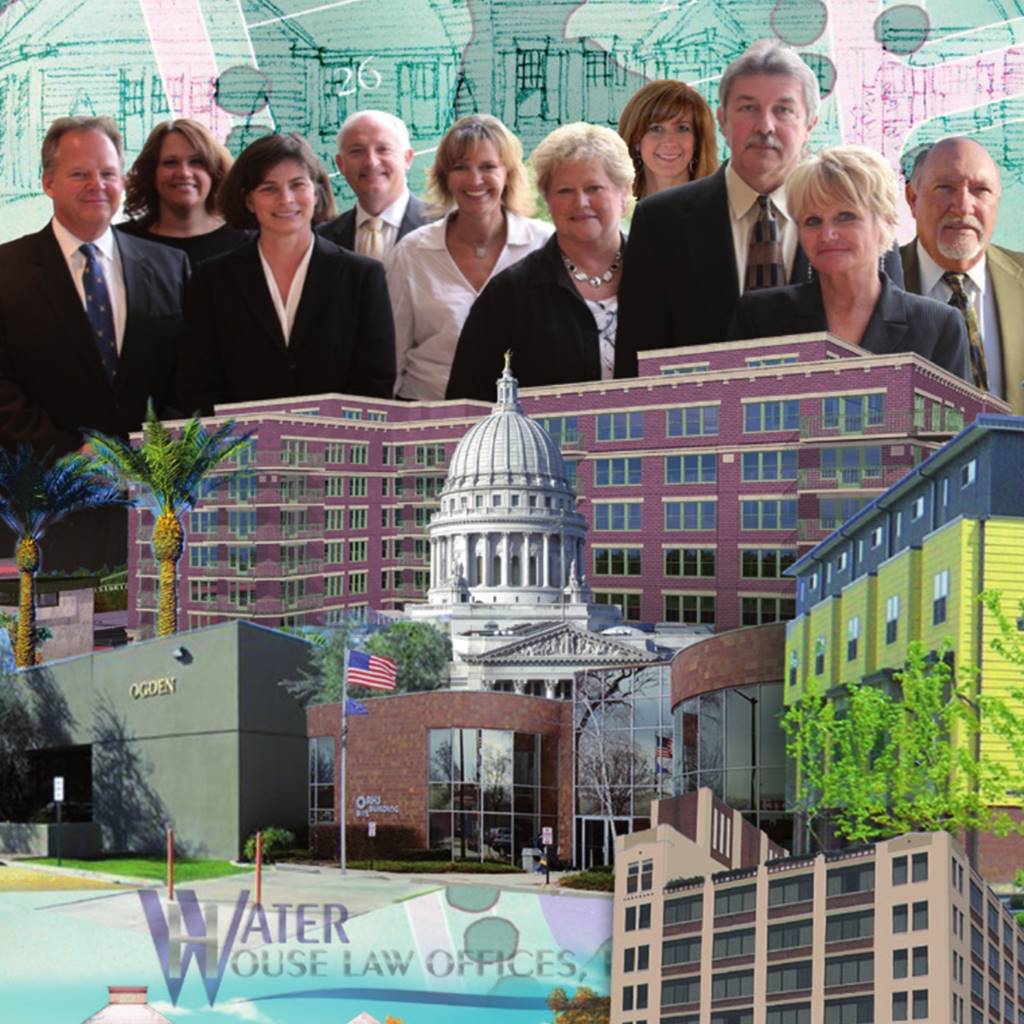 Future Focused
Ogden & Company, Inc. opened a new office in Scottsdale Arizona, and later moved the office to Mesa. Ogden Residential moved their business to Wauwatosa. The Ogden family of businesses grew with the addition of Ogden Construction Group, LLC., Craftmaster Painting, and Waterhouse Law Offices. Work on White Coach Village, and Mill Reserve continue, and Craftmaster Contractors enhanced their menu of services. The Property Management Division added a maintenance group and moved into the Madison market. Our future focuses, under the leadership of President, Peter Ogden and a well respected executive team.
Named one of the "Top 20 Places to Work" by Milwaukee Magazine.
Opened office in Scottsdale, Arizona.
CraftMaster Contractors broke ground on the first custom built house.
Ogden Arizona starts a Residential Sales Division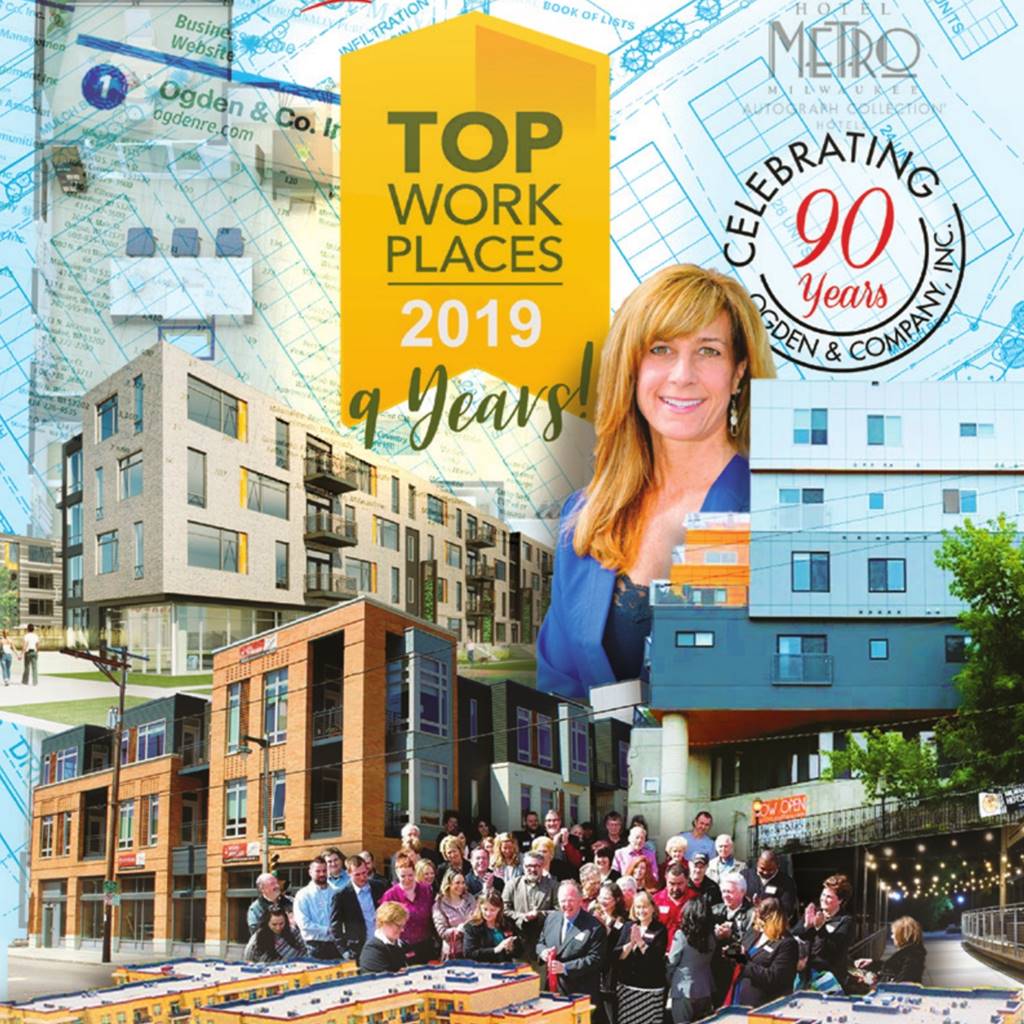 The Ground Breaking Years
Ogden & Company, Inc. made significant additions to its development portfolio including Sutter Creek Apartments in Brookfield, Keystone on Brady Apartments on Historic Brady Street, Nine10 at Land Place Apartments on Milwaukee's Lower East Side, Element 84 Apartments in West Allis, and The Box Self Storage in Mukwonago. Ogden opened their Fox Valley office, and in 2019 Ogden was named a Top Workplace by the Milwaukee Business Journal for the 9th year. Lori Percival was named President of the Arizona office, "Real Estate without Boundary®" became a registered trademark, the downtown office and RiverWalk renovation was completed, and Hotel Metro was rebranded by(as?) Marriott Autograph Collection. Ogden was recognized by the Book of Lists
Named one of the "Top 100 Workplaces in SE Wisconsin"
Lori Percival named President of Arizona Division
Ogden & Company teams are in place to provide expertise and guidance to ensure our partners get the highest return from of their properties.
"I have very much enjoyed my several years of residency at Diversey Manor as well as your Ogden property on Oakland Ave. in Shorewood and would continue to reside in an Ogden property should one be available to suit my needs. I would also highly recommend Ogden & Company, Inc. to others. I greatly appreciate the management of Annette and Ron, they have always been very helpful and a pleasure to work with. They do an excellent job."
"My husband Conrad and I live in the Avondale Condominium Association development in Pewaukee, WI, and your company provides our community with the services of Chad Emrath, our property manager. Chad and his associate, Mary Franklin, have lead the way for all of us living in a condo environment in understanding our status as condo owners, and all of the Wisconsin statutes regarding our Association's responsibilities. It is my privilege to acknowledge the importance of these two Ogden staff members. We know we are very fortunate to have the services of Ogden & Company, Inc. represented through Chad Emrath and Mary Franklin."
"We want to thank you for all you did to help us finally find our dream home. We absolutely love living here. You are a wonderful realtor who made the whole process less scary and fun."
"Matt and I want to extend a huge THANK YOU for all the time and effort you put into our house search. I'm overjoyed with the house, location, and potential. We hope to be in this house for several years to come and hopefully start our family here! You provided sound advice and great guidance. Your name will be my top recommended realtor, and I look forward to working with you again in the future."
"Thank you for everything you did for us! We appreciate all the hard work you did to find us our first home! We are settled in and are loving every minute of it!"
"After ten years of running the Whitnall Grove Condo Association since its inception, the Board of Directors decided to look into hiring a management company. It was not an easy decision because we did not want to lose our autonomy regarding all the various issues. Still, the work load for the Board had become more complex and time consuming. After much soul searching and investigating various companies, we decided to hire Ogden. We could not have made a better choice. From the get go, Ogden has been by our side on everything – meeting with us personally, answering any and all questions via email, guiding us through the whole transition, and putting our mind at ease. There has never been one iota of "hard sell" from Ogden. That's not the way they operate. They are here to work with us and to take over the immense work load that has built up over the years. The lines of communication are so solid. In short, Ogden is always there for us with an expert, knowledgeable, – and I have to say enjoyable - staff. As mentioned earlier – we could not have made a better choice!"
"Brian and I cannot thank you enough for helping us find the home of our dreams! Having you as our realtor made the home buying experience easy and fun… and we feel you have become like a friend to us. Thank you again, Judy, for all of your hard work, care and support!"
"We wanted to thank you again for all of your help & guidance with our first home purchase. You were very helpful, answered all our questions and walked us through every step. We really appreciated your time and knowledge. We love our new home! We will recommend you to our friends & family!"
"I recently had the unfortunate experience of dropping my keys in the elevator and losing them down the elevator shaft. I'm sure you can imagine how distraught I felt at that moment. Thank God a friend of mine in the building had a key to my Unit so I could at least get in. Once in my condo, I immediately called Julie. I heard back from her within minutes. I explained the situation to Julie and she immediately took charge of the situation. Suffice it to say, I had my keys back within 24 hours. I don't mean to minimize the steps Julie took to resolve this matter for me, but don't intend to bore you with all the detail. The point of this email is to express my sincere gratitude to Julie, and to let the entire Van Buren City Lofts Board know just how responsive/reactive Julie was to my immediate need. Her attention to my situation was immediate, professional and very compassionate. I am very grateful to know that we are in such good care with Julie at Ogden."
"I was apprehensive about a property management company actively involved with the day-to-day operations of my condo building, but it has been a positive experience since the beginning. Ogden's professional staff has been there to provide assistance, information and problem resolution whenever needed. Most importantly, the Ogden Property Management team has quickly responded to my phone calls, letters and emails. I appreciate being treated like a valued client, not just a name on an owner list." Laura Gutmann "I was apprehensive about a property management company actively involved with the day-to-day operations of my condo building, but it has been a positive experience since the beginning. Ogden's professional staff has been there to provide assistance, information and problem resolution whenever needed. Most importantly, the Ogden Property Management team has quickly responded to my phone calls, letters and emails. I appreciate being treated like a valued client, not just a name on an owner list."
"It has been an honor and privilege to have worked with Ogden & Company, Inc. for the past sixteen years. Their property management staff has broad knowledge, and the highest integrity."
"This morning your technicians were here to clean our carpets as scheduled. I just want you to know what an excellent and professional job Tim Nowak and young woman Iris Andrew did. I couldn't have picked a better company to do the job. My husband and I are so pleased. Thank them again for us and we'll surely use you again and recommend you to our friends."
Take the next step
We are passionate about what we do. If you would like to learn more about the Ogden difference, we'd love to learn more about you. Take the next step to find out how we can work with you to build something exceptional together.